Himachal Pradesh is a state-based in northern India. It is one of the eleven mountain states in the Western Himalayas and is distinguished by an extreme landscape with a few peaks and extensive river systems.
Continue Reading…

Himachal Pradesh is bordered to the north by the Union territories of Jammu and Kashmir and Ladakh, and to the west by the states of Punjab, Haryana, Uttarakhand, and Uttar Pradesh. The state shares an international border with China's Tibet Autonomous Region to the east. Himachal Pradesh

…

is also called the '

Land of Gods and Goddesses

'. The predominantly mountainous region, which includes modern-day Himachal Pradesh, has been inhabited since prehistoric times and has seen multiple waves of human migration from other areas.

Throughout its history, the region has been dominated by local kingdoms, some of which have accepted the suzerainty of larger empires. Before India's independence from the British, Himachal was made up of the hilly regions of British India's Punjab Province. Many of the hilly territories were organized as the Chief Commissioner's province of Himachal Pradesh after independence, which later became a union territory. Himachal Pradesh was formed in 1966 from hilly areas of the neighboring Punjab state, and it was granted full statehood in 1971.

Himachal Pradesh is circulate across valleys with many perennial rivers flowing through them. Around 90% of the state's population lives in rural areas. Agriculture, horticulture, hydropower, and tourism are important constituents of the state's economy. The hilly state is almost universally electrified with 99.5% of the households having electricity as of 2016. The state was claimed as India's second open-defecation-free state in 2016. According to a survey of CMS – India Corruption Study 2017, Himachal Pradesh is India's lowest corrupt state.

Himachal Pradesh

Welcome to our Himachal Pradesh Tour Packages! We offer a variety of customizable tour packages that cater to different interests and budgets. Whether you are looking for adventure, scenic beauty, or simply some relaxation amidst the beautiful mountains and valleys of Himachal Pradesh, we have a tour package that will suit your needs. Our tour packages are carefully crafted by our team of experienced travel professionals who have a deep understanding of the region's tourist appeal.
We are committed to providing our clients with the best possible travel experience, which is why we ensure that all our tour packages feature comfortable accommodations, hassle-free transportation, knowledgeable guides, and safe itineraries. We also offer 24/7 customer support to assist you with any queries or concerns that may arise during your trip.Our Himachal Pradesh Tour Packages are designed to offer you a unique and unforgettable travel experience that will leave you with cherished memories for a lifetime.
Top Himachal Pradesh Tour Packages

| | | |
| --- | --- | --- |
| Himachal Tour Packages | No. of Days | Package Cost |
| OFFBEAT HIMACHAL | 11 Nights/ 12 Days |  ₹ 14 999 |
| SHIMLA-KULLU-MANALI | 5 Nights/ 6 Days | ₹ 11 300 |
| KALPA-KINNAUR | 10 Nights/ 11 Days | ₹ 17 600 |
| AMRITSAR-DALHOUSIE-DHARAMSHALA | 9 Nights/ 10 Days | ₹ 13 999 |

Things to Do on Himachal Pradesh Trip:
Paragliding– The ideal time to go paragliding in Bir is between June and September, when the weather is at its best. Because the sport is fully guided, it is also ideal for first-time flyers. After a brief training exercise at the launchpad, the fliers take to the skies, giving them views of the Dhauladhar.
River Rafting- This group activity is completely guided and can be tried by all. It is one of the best inclusions in Himachal packages for those who enjoy water sports. The rapids here vary in difficulty from Grade 1 to 3, making them ideal for first-time rafters. Depending on the rafters' preferences, the encounter can last anywhere from 30 minutes to an hour. Water activities in Kullu Valley are a must-do on any Himachal trip.
Skiing- Although summers in the valley can be just as enjoyable, winter transforms Solang into a winter activities paradise. Solang Valley's slopes are covered in pristine blankets of snow in winter, making it an ideal and popular hub for skiing enthusiasts and a great spot to include in Himachal travel packages. While experts can easily bring their own skis and traverse the slopes on their own, first-timers can benefit from the expert guidance of any of the trainers here. Skiing in Solang is best enjoyed between the months of October and January.
Peak Climbing– In this gorgeous setting, peak climbing is one of the most popular activities that appeals to the adventurous side of visitors to Himachal Pradesh. Set against the picturesque background of Manali, Peak Climbing in Vashisht provides a breathtaking view of the surroundings while experiencing the thrill of rare climbing spots in the Kullu Valley. As you ascend the rocks, you are safely harnessed, and a cool breeze caresses your skin. This once-in-a-lifetime experience should undoubtedly be on your itinerary when touring Himachal.
Trekking- Trekking in Himachal Pradesh is a breathtaking experience, with vistas of snow-capped peaks and lush green valleys and meadows that encircle the hills. These treks help you relax and have the experience of a lifetime, making them perfect for a weekend getaway. Himachal Pradesh treks are appropriate for all levels of travelers, including beginners and specialists. Even if you are new to trekking, Himachal Pradesh has a broad variety of treks for you to choose them.

Places to Visit on Himachal Tour:
Himachal Pradesh is a paradise for travel enthusiasts, with its snow-capped peaks, serene landscapes, and abundant natural beauty. There are numerous breathtaking places to visit on a Himachal tour that offer unforgettable experiences. Here are some of the best places to visit on a Himachal tour:
1. Shimla : Shimla, which is tucked away in the Himalayan mountains, makes for the ideal summer vacation destination. Shimla, now the state's capital, was once the colonial era's summer capital, and its impact can still be seen in the area's architecture. The city's centre is bisected by the busy Mall Road, which is dotted with major stores and shopping centres. The well-known Shimla Ridge, a picturesque walkway with a panoramic view of the Himalayas, runs parallel to them. At one end, the Neolithic Christ Church is a reminder of the city's colonial history. The largest grassy glade in Shimla, Annandale, which offers horseback riding and a golf course, is only a brief drive away. You must include a trip to this location in your Himachal travel packages.
2. Manali : The burgeoning township of Manali, which is situated on the picturesque Beas River valley, takes pleasure in its exquisite fusion of nature and culture. Manali is a favourite addition to Himachal travel packages and is great for both honeymoons and family vacations. The historic Hadimba Temple, a Hindu complex built in the 16th century that is well known for its architecture, is located in the cedar woods of Old Manali. Similar to Shimla, Manali has its own Mall Road that is lined with shops and other establishments.
3. Dharamshala : This picturesque winter city is nestled in the shadow of the enormous Dhauladhar mountains. Hindu shrines like the Indru Nag Temple, Chamunda Devi Temple, and Kunal Pathri Temple are scattered throughout these mountains. The Belgian Glass Window in the Neo-Gothic St. John's Church in the Wilderness is distinctive. The charming Tibetan village of Mcleodganj, which is not far from Dharamshala, greatly adds to the appeal of that city. One of the top destinations to include in your Himachal travel plans is this one.
4. Dalhousie : Dalhousie, which is spread across five hills, is one of the most popular destinations on Himachal travel packages. Lord Dalhousie founded the tiny hill town in 1850 as a summer getaway, giving it its name. The Dhauladhar ranges serve as the city of Dalhousie's scenic background, adding to its allure. Small waterfalls that are bursting from mountain sides are visible from wooded vistas. The renowned Mall Road, which is lined with shops, cafes, and leisurely pedestrians, is located in the centre of the hill town.
5. Kasauli : Kasauli embodies the quaint colonial charm that the Himachali cities are so well known for, with its gabled cottage homes and pricey orchids that blossom every spring. The best way to see this hill town is on foot, so choose one of the many cobbled paths and take in the scenery. The Monkey Point, or Manki Point as the locals refer to it, is Kasauli's highest point and offers unrivalled views of the nearby peaks. The well-known Krishna Bhavan Mandir, a Hindu shrine styled after a church and regarded as an architectural marvel, is also located in the hillside town. Because it is the starting point of the renowned Gilbert Trail, Kasauli is a well-liked trekking location in Himachal travel packages.
6.Bir Billing : often referred to as the "Paragliding capital of India," is a crucial component of any Himachal trip package intended for thrill seekers. The small community is idlely situated in Himachal's Joginder Nagar Valley. Bir Billing's expansive scenery and pleasant climate make it the ideal location for paragliding, and the area is frequently chosen to hold the World Cup in the activity. Bir Billing is also known as a well-liked meditation centre and is home to a number of Buddhist-focused retreats. The town is also traversed by a few lovely trekking paths.
7. Rohtang Pass : Rohtang Pass is one of the most breathtaking locations in the Kullu area of Himachal Pradesh and serves as a gateway to Lahaul and Spiti. The ice-clad beauty of Rohtang, suspended at a height of more than 3,000 metres above the ground, is quite unmatched, making it one of the most beautiful places to explore in Himachal tour packages. The Rohtang roadways are constantly blocked by snow during the winter. But the Pass turns into a popular sports location in the spring and summer. Rohtang Pass provides a variety of snow sport opportunities, including skiing, snowmobiling, sledding, and more, due to its permanent snow-covered state. The Pass is home to a number of trekking paths that are great for both experienced and inexperienced hikers.
8. Spiti valley : Literally translated as "the middle land," Spiti forms the spine of the border between India and Tibet. A great addition to Himachal travel packages is the cold desert, which is dotted with patches of verdant grass and boasts an amazing variety of distinctive landscapes. One of the best trekking locations in Himachal packages, the valley is teeming with trekking trails. Pagodas and monasteries, which are prized for their serene atmosphere, are abundantly scattered across Spiti's terrain. A valuable wildlife hotspot to be included in Himachal Pradesh travel packages is Kibber, one of the valley's few inhabited villages and home to the endangered snow leopard.
9. Mcleodganj: The small village of Mcleodganj, a spiritual retreat in the middle of the hills, is well known for its tranquility. Because of its sizeable Tibetan population, Mcleodganj is frequently referred to as "Little Lhasa." One of the main draws is the magnificent Kareri Lake, which is located in the middle of the town. In addition to its hiking trails, the adjacent Minkani pass is renowned for its luxuriant flowering meadows. Mcleodganj is one of the best locations in Himachal Pradesh for trekking packages because it is a well-known centre for trekkers. The Triund trek is one of the most well-known names on the numerous famous trekking routes that wind through these hills, making it a popular trekking destination in Himachal travel packages.
10. Solang Valley : Solang Valley is one of the most well-liked destinations in tours to Himachal Pradesh because it is well-known throughout the nation for its adventure sports. The Valley is still a great place to explore all year round, in contrast to many other locations that surround it. Summers in Solang are ideal for adventure sports like paragliding, parachuting, and even zorbing thanks to the area's open skies and agreeably chilly climate. Solang Valley becomes one of the top skiing locations in the nation during the winter months when the Valley is completely enveloped in white blankets of snow. If you enjoy taking on new challenges, you should include these locations in your Himachal Pradesh travel plans.
Overall, Himachal is an idyllic destination that caters to people with all types of interests – from adventure to spirituality.This highlights some of the must-visit places in Himachal Pradesh, a state known for its scenic beauty, picturesque hill stations, and rich cultural heritage. Whether you are traveling solo, with family or friends, the state of Himachal Pradesh has a lot to offer for everyone. From the tranquil landscapes of Shimla, colonial architecture of Manali to the rugged terrains of Spiti Valley, each place in Himachal offers a unique and unforgettable experience for travelers.No matter which place you choose to visit on your Himachal tour, the state promises an unforgettable experience filled with breathtaking landscapes, adventure sports, and a glimpse into the rich cultural heritage of the region.
In conclusion, Himachal Pradesh is an ideal travel destination with a myriad of attractions that appeal to travelers of all interests. So, start planning your next trip to Himachal and immerse yourself in the beauty of this fascinating state. Happy traveling! Do not forget to pack warm clothes and comfortable shoes, as some of the places can get quite chilly even in summer. Also, it is best to book your accommodations in advance as the tourist rush can make it challenging to find a suitable place to stay at peak times. Additionally, it is highly recommended to research the local customs and traditions before visiting Himachal Pradesh as it would give you a better understanding of the region and would help you to be respectful towards the local culture.

Best Time to Visit Himachal Pradesh
Himachal Pradesh is one of the most beautiful and serene states in India, offering a breathtaking view of the Himalayas to visitors. The best time to visit Himachal Pradesh depends on your interests and activities you are planning. If you are looking to indulge in winter sports activities such as skiing and ice-skating, the best time to visit Himachal Pradesh is between December and February. However, if you are planning to explore the beauty of its hill stations or enjoy adventure sports like rafting and trekking, then March to June is the best time for you to visit Himachal Pradesh.
On the other hand, if you're looking to witness the monsoon season and overcast skies of Himachal Pradesh lush green landscape, then July to September would be the ideal time for you to visit Himachal Pradesh. Keep in mind that during the monsoon season, landslides and roadblocks are common in certain parts of the state. Therefore, it is advisable to check the weather and road conditions before planning a trip during this season. In general, it's best to avoid visiting Himachal Pradesh during the winter months of December and January due to heavy snowfall and harsh weather conditions.

How to Reach Himachal Pradesh

By Air –
There are three airports in Himachal Pradesh, located in Chandigarh, Amritsar and Pathankot. Flying to any of these airports is the quickest and easiest way to reach Himachal Pradesh

By Road –
Himachal Pradesh is well-connected to its neighboring states through a network of state and national highways. One can drive to Himachal Pradesh by hiring a taxi, self-driving or taking a bus.

By Train – Unfortunately, Himachal Pradesh does not have a railway station of its own. The nearest railway stations to reach Himachal Pradesh are Chandigarh and Pathankot, which are well-connected with major cities across India.Also Toy Train runs from Kalka to Shimla.

No matter where you are coming from, there is always an easy way to reach the colorful state of Himachal Pradesh. Whether it's the scenic beauty of mountain ranges, lush green valleys or snow-capped Himalayan peaks that make you want to visit Himachal Pradesh, you can rest assured that traveling to this beautiful state is convenient and hassle-free. The availability of multiple modes of transportation makes it easy for tourists to plan a trip to Himachal Pradesh.

Highlights of Himachal Pradesh tour
Himachal Pradesh is a beautiful state nestled in the foothills of the mighty Himalayas in northern India. It offers a wide range of stunning landscapes, including soaring mountain peaks, lush green valleys, and cascading waterfalls. Some of the top tourist destinations in Himachal Pradesh include Shimla, Kullu-Manali, Dalhousie, Dharamshala, and many more. These destinations are known for their picturesque views, adventure activities, historical landmarks, and vibrant cultural traditions. Popular activities among tourists include trekking, mountaineering, skiing, paragliding, river rafting, and other adventure sports. In addition to adventure and sightseeing activities, visitors can also enjoy the diverse cuisine of Himachal Pradesh, which includes dishes such as Channa Madra, Dhaam, and Siddu.
Overall, a trip to Himachal Pradesh is perfect for those seeking a combination of breathtaking natural beauty, cultural experiences, and thrilling outdoor activities. Whether you are a nature lover, an adventure enthusiast, or someone looking to unwind amidst scenic surroundings, Himachal Pradesh is the perfect travel destination for an unforgettable vacation experience. It provides a brief overview of the most popular tourist destinations, cultural traditions, adventure activities, food options and overall experience that can be expected on a trip to Himachal Pradesh. It can serve as a starting point for planning your itinerary and activities on your trip to Himachal Pradesh, helping you make the most of your vacation and ensuring a memorable experience. It provides a comprehensive glimpse into the tourism potential of Himachal Pradesh for prospective visitors, highlighting major attractions and experiences that can be expected from a trip to this beautiful region. It serves as an invitation for travelers to explore the diverse natural beauty, vibrant culture, and thrilling adventure opportunities of Himachal Pradesh.
It is recommended to do some research and plan the trip in advance, keeping factors such as weather conditions, duration of stay, budget, and preferred activities in mind. This will help you ensure that your trip is well-organized, enjoyable, and hassle-free.

Experience the Best of Mountains in Himachal Pradesh Tour
If you are an adventure seeker or just looking to get away from the hustle and bustle of city life, then a Himachal Pradesh tour is a perfect fit for you. Himachal Pradesh is a beautiful northern state of India that has something to offer for everyone. From snow-capped mountains to peaceful riverside towns, Himachal Pradesh offers a wide range of experiences that are sure to fulfill anyone's desire for adventure and natural beauty. One of the main reasons that make a Himachal Pradesh tour special is its stunning landscapes. Snow-clad mountain peaks, lush green forests, and sparkling lakes are just some of the breathtaking natural features that Himachal Pradesh has to offer.
In addition to the mesmerizing natural beauty of Himachal Pradesh, the state is also known for its rich cultural heritage and traditional cuisines. A Himachal Pradesh tour is a great way to get acquainted with the state's unique culture and cuisine. You can try the local Himachali dishes like Siddu, Dhaam, Tudkiya Bhath and Chana Madra. Moreover, a Himachal Pradesh tour is not complete without experiencing the thrill of adventure activities. Some of the popular adventure activities in Himachal Pradesh include trekking, mountaineering, paragliding and river rafting. These activities offer a unique opportunity to explore the beautiful landscapes of Himachal Pradesh while getting your adrenaline pumping. Overall, a Himachal Pradesh tour is perfect for anyone looking to explore the natural beauty, rich culture and adventurous activities in a northern Indian state.
We highly recommend taking a Himachal Pradesh tour to truly experience the best of what this stunning state has to offer. Whether you're an adventure enthusiast or a cultural seeker, Himachal Pradesh's diverse offerings are sure to leave you spellbound. Book a Himachal Pradesh tour package today and embark upon an unforgettable journey to explore Indian Himalayas like never before. With experienced guides and customizable itineraries, you can rest assured that your Himachal Pradesh tour package will meet all of your travel needs.

Food to Eat in Himachal Pradesh
Himachal Pradesh is a state in Northern India that is known for its breathtaking natural beauty and rich cultural heritage. It is also a food lover's paradise, with a diverse range of dishes that reflect the state's unique geography and cultural diversity. Here are a few delicious and iconic foods to try in Himachal Pradesh:
1. Dhaam – A traditional platter that consists of lentils, rice, boor ki kari (a spicy curry made with mustard seeds), khatta (tangy chutney made with tamarind and jaggery), meetha (sweet rice dish made with raisins and nuts), and siddu (a steamed bread made with wheat flour, filled with poppy seeds).
2. Chha Gosht – A spicy mutton gravy that is slow-cooked with yogurt, ginger-garlic paste, onions, and a variety of aromatic spices, including cardamom, cinnamon and bay leaves.
3. Babru – A deep-fried snack that is made with a filling of black gram paste mixed with spices, wrapped in a dough made from refined flour (maida) and then deep-fried until crispy.
4. Siddur – A dish made of wheat flour, water and salt that is kneaded into a dough and allowed to ferment for several hours before being rolled into a ball and then steamed.
5. Madra – Madra is a specialty that originated in the Himachal Pradesh region of Chamba. The dish primarily comprises soaked vegetables or chickpeas (chana). The flavor of this meal is enhanced by the use of several spices, including cloves, cinnamon, cardamom, cumin, coriander powder, and turmeric powder, which are cooked thoroughly in the oil.

What Makes a Tour of Himachal Pradesh Unique?
After reading about this lovely state and the Himachal Pradesh vacation deals, it is simple to understand what makes this location unique. The simple response is that this place's natural beauty, history, culture, and inhabitants are what make it special. The Himachal packages offer many chances to not only take in the breathtaking scenery of this Indian state on the surface, but also to forge a close connection with it. With these packages, one can enjoy the grandeur of the mountains while also getting a thorough understanding of the components that make up Himachal Pradesh. A soul seeking humble experiences amidst the mountains is welcomed by the hardworking locals who create and make handicraft items, provide sightseeing opportunities with their cattle and horses in remote areas, and prepare delicious local cuisine at numerous local stalls and restaurants.
Whether you journey alone or with friends, a trip to Himachal Pradesh is always a joy. People are constantly drawn to this location by its warmth and politeness, which keeps them coming back time and time again. It is intended for someone taking a Himachal tour to be mesmerized by the breathtaking beauty of the landscapes as they experience the captivating surroundings. Himachal Pradesh is considered to be one of the finest tourist destinations in India because of its verdant green valleys, snow-capped mountains, pine and cedar-covered peaks, challenging trails, and historical sites. This location experiences nice weather almost the entire year. This location experiences nice weather almost the entire year. Visitors who want to experience snowfall go there in the winter, while those who want to admire the lush vegetation go there in the summer.
Due to the danger of landslides, monsoon is typically ignored. MTG Travels Himachal Pradesh trip package can be your travelling companion and will enable you to fully experience the area. To take advantage of the best discounts and offers and to enjoy a trip to one of the best locations in India, book these packages as soon as feasible. Browse through our extensive selection of Himachal Pradesh vacation packages to create an unforgettable trip. The itinerary that best suits a traveler's hobbies and destination can be chosen. To improve your trip experience, our itineraries can also be completely modified. We offer a variety of low-cost packages if one is searching for an affordable travel itinerary. When compared to other sites, our platform offers cheap Himachal travel costs.

What is the route to Himachal Pradesh?
A well-maintained, extensive motorway network, numerous airports, and broad-gauge railheads make it simple to get to Himachal Pradesh.All significant Indian cities, including Delhi, Mumbai, Chandigarh, and Bangalore, are linked to the Kangra Airport in Gaggal, the Shimla Airport in Jubberhatti, and the Kullu-Manali Airport in Bhuntar. Travelers frequently fly into Chandigarh Airport and select ground conveyance to start their Himachal Pradesh tours.
The primary route linking Jogindernagar in Himachal Pradesh and Pathankot in neighbouring Punjab is the Kangra Valley Railway. The beautiful but uninhabitable terrain of Himachal Pradesh makes it difficult to build new train lines, but those that are already in place are more than enough to accommodate travellers without too many delays. The renowned Toy Train also runs between Himachal and Haryana. You can start your Himachal tour as soon as you take a place on this lovely 6-hour trip. For the deliberate, slow traveler, a total of 8 national and 19 state highways give a variety of scenic routes. Travel by vehicle from many states, including Haryana, Delhi, Kashmir, Chandigarh, and Punjab, to avoid unreliable flights. The smoothest path is the one that goes from Delhi to Himachal; the others occasionally have some stretches of rough terrain. Take one of the numerous buses run by the Himachal Pradesh Tourism Development Corporation between Delhi, Shimla, Manali, Kullu, and Khajjiar to begin this seven-hour trip.

Why Choose MTGTravels Packages?
We're confident that after reading about what the Himachal Pradesh travel packages have to offer, you can see why this place is unique. Whether you travel to Himachal Pradesh with family, friends, or as a backpacker, it is always peaceful and thrilling. This location's warmth, natural grandeur, and depth of history and culture always satisfy. Additionally, this location has pleasant weather all year long, which draws visitors there. In contrast to those who want to explore tourist attractions and take in the beauty of the hills, those who love snow and want to participate in snow-related activities come during the winter season.
Visit our website to view the many Himachal Pradesh travel packages we offer. Travelers are free to select or alter an itinerary to suit their intended location, financial situation, and interests. Our plans are completely customizable because we recognize that every traveler has a unique set of needs. We can accommodate all travel needs, whether they involve a cheap Himachal tour, an opulent Himachal vacation, a quick trip, a lengthy relaxing vacation, or an adventurous trip.
You should choose MTG Travels trip packages if you want to experience Himachal at its very best. We provide the most flexible selection of packages, excellent discounts, and offers, and cater to all types of travelers. The finest hotels are also included in our packages to make your trip relaxing. If you want to learn more about travelling in Himachal Pradesh, including the ideal times to go and places to see, get in touch with our travel specialists.

FAQs

Q. What are the most popular summer vacation spots in Himachal Pradesh?
Most Himachal Pradesh vacation packages include visits to all of the state's major tourist attractions. During the summer, all of these locations are extremely popular. Drive to Kasol via the Atal Tunnel. If you're in Manali, don't miss a trip to Solang Valley, where the slopes are carpeted with greenery and activities like zorbing and paragliding are gaining popularity. Many people choose to drive straight from Delhi to Mcleodganj, where they can visit monasteries, take in views of the Himalayas, and eat a Tibetan meal. Dalhousie is a few hours' drive from Dharamshala and is where you can visit Khajjiar, a sweet alpine paradise picturesque enough to keep your lens trained at all times. Numerous summer getaways in Himachal will leave you speechless.

Q. When is the best time to visit Shimla to enjoy the snow?
Before booking one of the Himachal Pradesh vacation packages, learn about the weather and when you can expect to see snow. Travel to Shimla during the winter months of mid-December to early February, when the Christmas lights are still on at shop windows and street corners, there is festivity in the air, and the holidaymakers are in high spirits. Snowfall and hailstorms are common this time of year, with intermittent rains and wind lashing down and rattling trees.It's a great time to stroll around the Mall, take part in the winter carnival, and enjoy the food festivals that take place in its cozy cafes and restaurants. Skiing and ice skating are popular activities at this time of year when temperatures range from 0 to 8 degrees Celsius. Day trips to Mashobra, Kufri, or Narkanda are also possible due to their proximity. If you don't have your wellies, thick woollens, caps, and gloves, you might get frostbite.

Q. When can I purchase a Shimla toy train ticket?
Booking for the Kalka-Shimla toy train ride opens one month before the trip date. You can book your tickets through the IRCTC website or online travel agencies such as MTG Travels. It is best to purchase your tickets as soon as possible. Due to the high demand from tourists all year, particularly during the summer holidays, ticket availability may be limited.

Q. Is a permit required to visit Rohtang Pass?
A National Green Tribunal (NGT) permit is only required for commercial or private vehicles that do not have a Himachal Pradesh license plate, and it is not required for tourists. Rohtang Pass is only accessible by a limited number of vehicles per day. As a result, it is recommended that you plan your trip ahead of time, as permits are limited and are issued on a first-come, first-served basis online. You can request that your tour operator book it for you. In addition, the Rohtang Pass is closed on Tuesdays for road and infrastructure maintenance.But our team will take the permit in advance.

Q. What should I pack for my trip to Himachal Pradesh?
Bring appropriate clothing for the season. Bring heavy woollens like thermals, inner, sweaters, jackets, boots, gloves, and good shoes if you plan to visit during the winter. If you are visiting in September or April, you will need light woollens. In the summer, you may want to bring one jacket when visiting Rohtang Pass. Pack light woollens and a portable umbrella or raincoat for the rainy season. Sturdy and comfortable walking shoes with a good grip are also recommended.

Q. When is the apple season in Himachal?
The total duration of the apple season varies depending on the altitude from June to November.

Q. When can I get good hotel deals?
Winter seasons are ideal times for hotels and resorts to provide discounts to tourists. In winter, there are fewer tourists.

Q. How many days should I spend in Himachal Pradesh?
Allow at least 8-10 days to travel around and explore the state. It is a large state with many small towns, villages, remote areas, and bustling cities, as well as numerous opportunities for sightseeing and adventure. A comprehensive tour of Himachal can take anywhere from 30 days to six months, depending on your budget and the amount of time you want to spend in each destination. Shimla, Manali, Dharamshala, and Dalhousie are among the state's most popular tourist destinations.

Q. What are the most popular sights in Manali and Shimla?
Popular attractions in Shimla include Mall Road, The Ridge, Jakhu Temple, Scandal Point, Kufri, and Mashobra. Visit Hadimba Temple, Solang Valley, Rohtang Pass, Vashisht Temple, and hot water springs while in Manali. During the winter, both locations are blanketed in snow.

Q. Is there a direct flight service to Mcleodganj?
Yes, Kangra Airport is 12 kilometers from Mcleodganj-Dharamshala. Alliance Air and SpiceJet airlines offer direct flights from Delhi, Jaipur, and Kanpur to the airport.

Q. How do I get around Himachal Pradesh?
Despite its mountainous terrain, Himachal has good road connectivity within the state. You can take a taxi, drive your own car, or even walk to get around.
Things To Do In Himachal Pradesh
HIKING
Walking through the hilly trails, listening to the shriek birds, witnessing the amalgamation of the rivers and mountains and getting dunked in the village ambience and the wilderness of the forests has its own charm and the hiking paths infuse your travelling experiences with elan and comfort.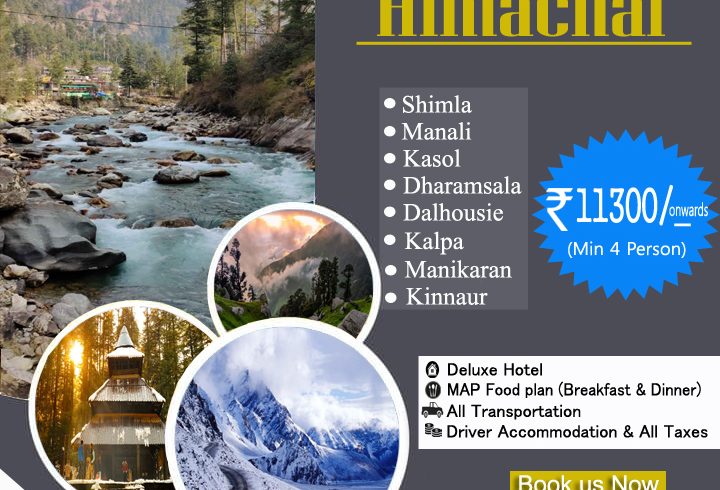 DURATION:  05 night 06 days (Chandigarh to Chandigarh) Total Package Cost: Approx INR.11300 per Head  Minimum 4 persons  
View Details
Available through out the year:
Jan
Feb
Mar
Apr
May
Jun
Jul
Aug
Sep
Oct
Nov
Dec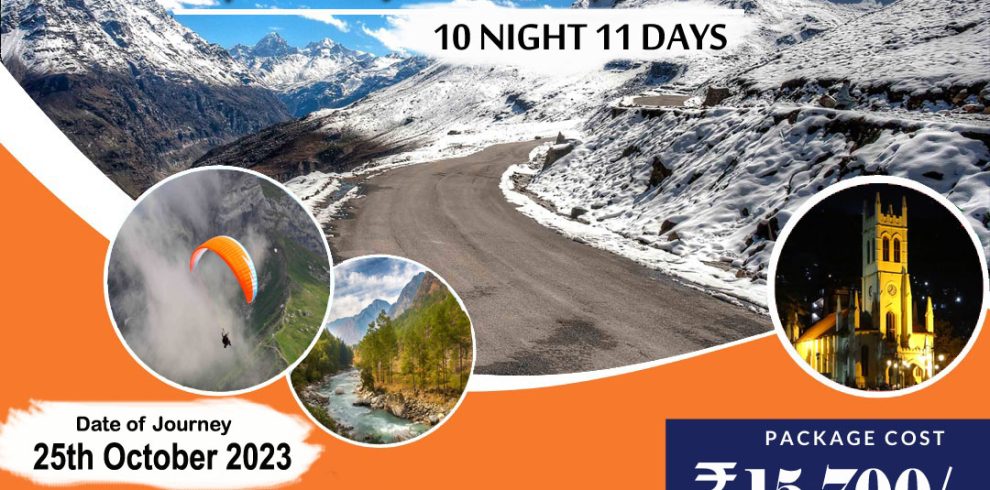 DURATION: 10 NIGHT 11 DAYS (HOWRAH TO HOWRAH)Total Package Cost: Approx INR.16400/ per Head (Double Sharing)Approx INR.15700/Per Head (Triple Sharing)DATE OF JOURNEY FROM HOWRAH –...
View Details
Available through out the year:
Jan
Feb
Mar
Apr
May
Jun
Jul
Aug
Sep
Oct
Nov
Dec
PARAGLIDING
Soaring through the clear blue skies, getting soaked in the vast abundance, paragliding through the beautiful mountain peaks and the coveted hills and just feeling the freshness of the bristling breeze, paragliding will take your enchanting excitement to a new level and watching the most panoramic scenic views in such magnificence is always a memoir to make.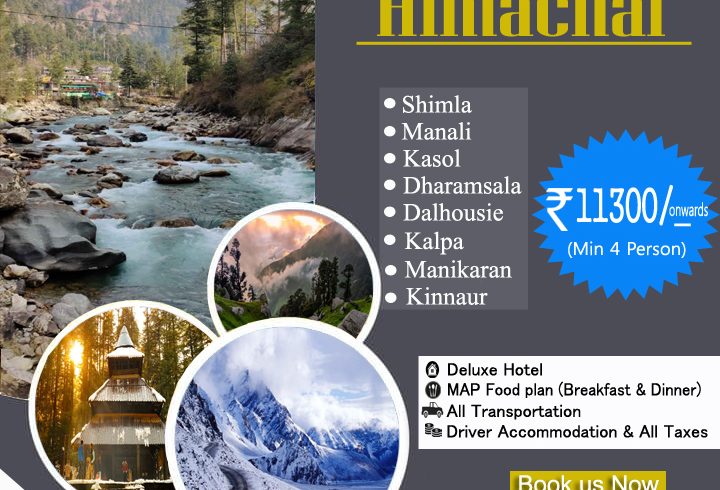 DURATION:  05 night 06 days (Chandigarh to Chandigarh) Total Package Cost: Approx INR.11300 per Head  Minimum 4 persons  
View Details
Available through out the year:
Jan
Feb
Mar
Apr
May
Jun
Jul
Aug
Sep
Oct
Nov
Dec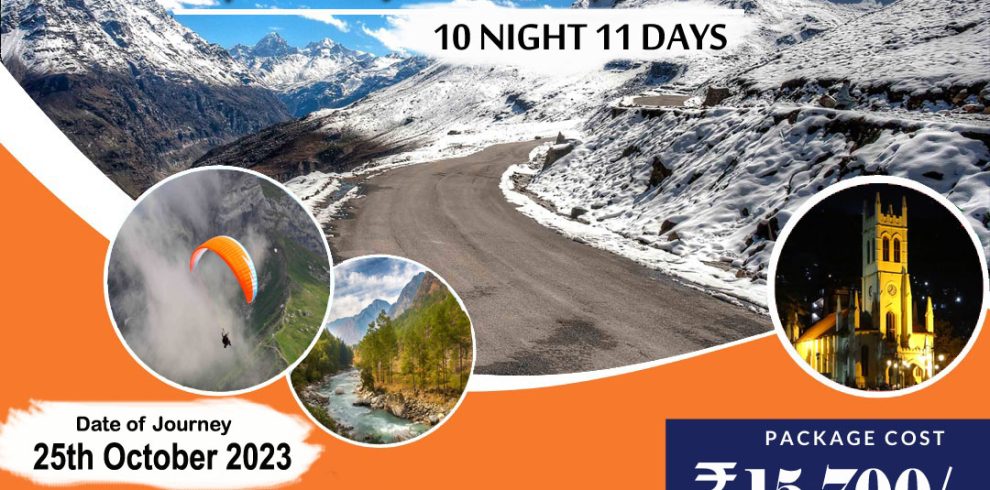 DURATION: 10 NIGHT 11 DAYS (HOWRAH TO HOWRAH)Total Package Cost: Approx INR.16400/ per Head (Double Sharing)Approx INR.15700/Per Head (Triple Sharing)DATE OF JOURNEY FROM HOWRAH –...
View Details
Available through out the year:
Jan
Feb
Mar
Apr
May
Jun
Jul
Aug
Sep
Oct
Nov
Dec
PEAK CLIMBING
A climbing peak can be a mountain or hill peak, or a rock formation that must be climbed.In Germany, the term refers to free-standing rock formations in the climbing regions of Saxon Switzerland, the Zittau Mountains, and other nearby ranges in the German Central Uplands that can only be summited via climbing routes of at least grade I on the UIAA scale or by jumping from nearby rocks or massifs.To qualify, they must have a topographic prominence of at least 10 metres.
The Saxon Climbing Regulations in Saxon Switzerland do not require a minimum height, but they do define climbing peaks as another requirement is that it be recognised by the Saxon Climbers' Federation (SBB) and the responsible conservation authorities.Hikers can often identify these authorised summits by the presence of a summit register and abseiling anchor points.
Other exceptions exist in other climbing areas, such as those in Bohemian Switzerland.Climbing peaks only need to have a significant rock face, with the lowest side being less than 10 m high but at least 6 m high.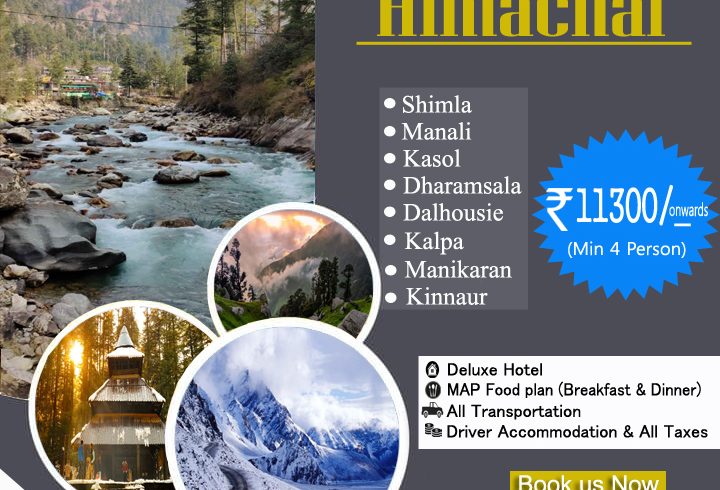 DURATION:  05 night 06 days (Chandigarh to Chandigarh) Total Package Cost: Approx INR.11300 per Head  Minimum 4 persons  
View Details
Available through out the year:
Jan
Feb
Mar
Apr
May
Jun
Jul
Aug
Sep
Oct
Nov
Dec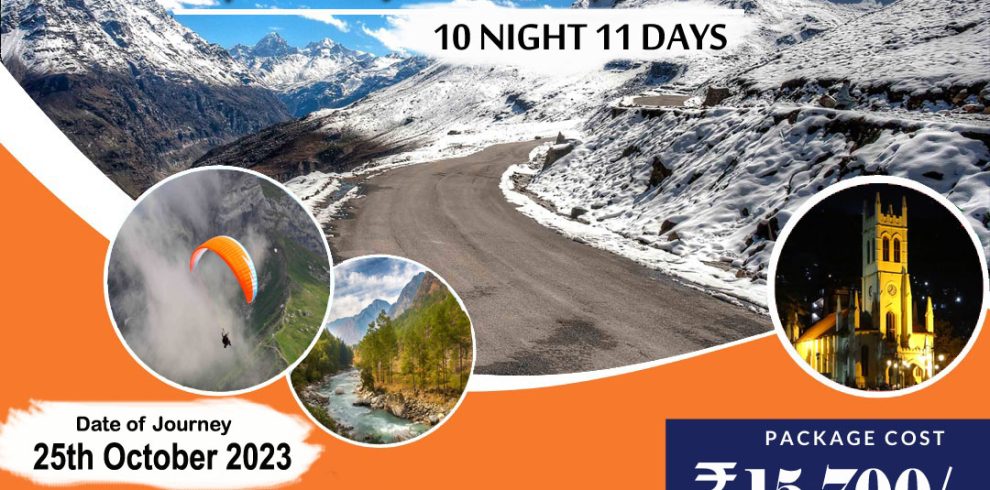 DURATION: 10 NIGHT 11 DAYS (HOWRAH TO HOWRAH)Total Package Cost: Approx INR.16400/ per Head (Double Sharing)Approx INR.15700/Per Head (Triple Sharing)DATE OF JOURNEY FROM HOWRAH –...
View Details
Available through out the year:
Jan
Feb
Mar
Apr
May
Jun
Jul
Aug
Sep
Oct
Nov
Dec
RIVER RAFTING
The gushing white waters of the rivers, the dense forests gazing along with, the luring landscapes, and the rolling waters blending and rafting out of these captivating surroundings calls for a generic and sparkling escapade from the mad hustle and bustle. expediting across the whisking waters creates a flurry of fervor for the endeavors more to come.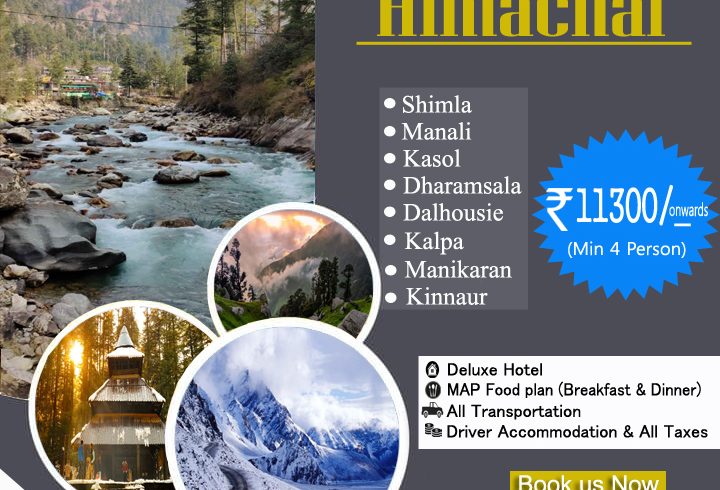 DURATION:  05 night 06 days (Chandigarh to Chandigarh) Total Package Cost: Approx INR.11300 per Head  Minimum 4 persons  
View Details
Available through out the year:
Jan
Feb
Mar
Apr
May
Jun
Jul
Aug
Sep
Oct
Nov
Dec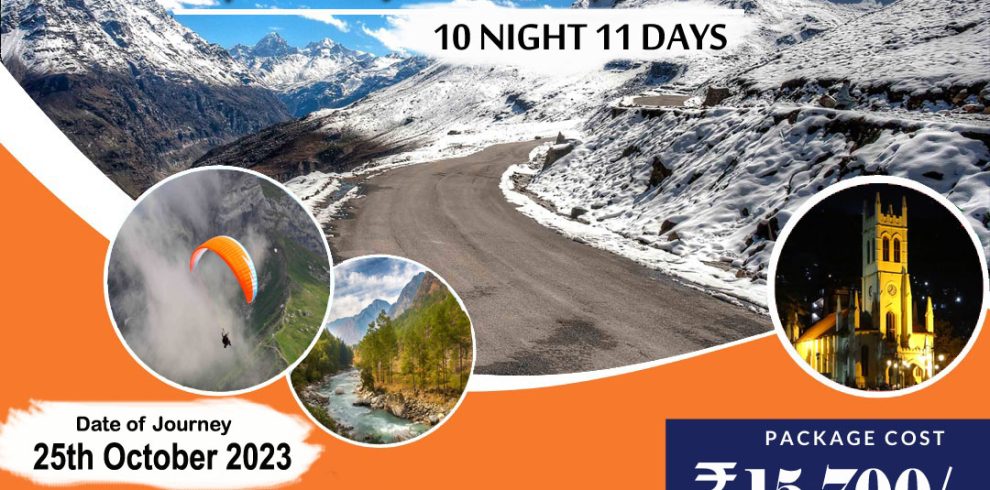 DURATION: 10 NIGHT 11 DAYS (HOWRAH TO HOWRAH)Total Package Cost: Approx INR.16400/ per Head (Double Sharing)Approx INR.15700/Per Head (Triple Sharing)DATE OF JOURNEY FROM HOWRAH –...
View Details
Available through out the year:
Jan
Feb
Mar
Apr
May
Jun
Jul
Aug
Sep
Oct
Nov
Dec
Sightseeing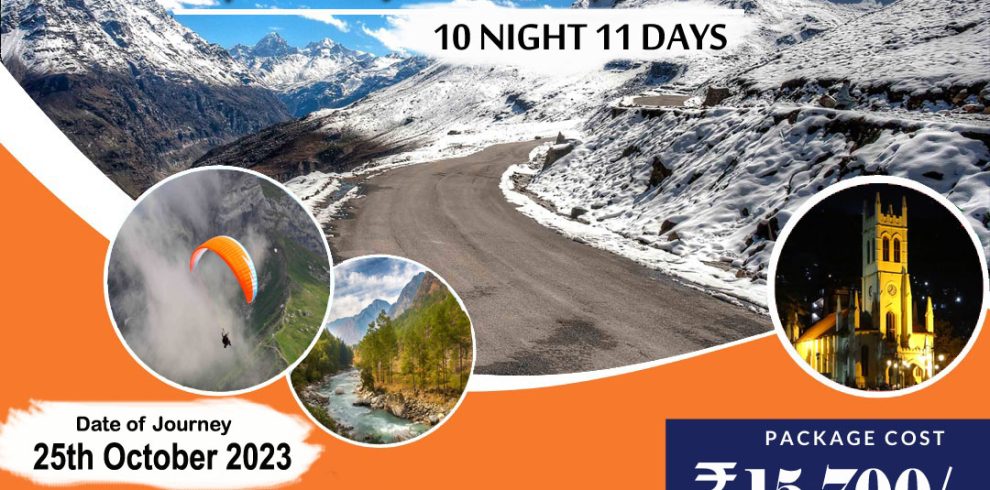 DURATION: 10 NIGHT 11 DAYS (HOWRAH TO HOWRAH)Total Package Cost: Approx INR.16400/ per Head (Double Sharing)Approx INR.15700/Per Head (Triple Sharing)DATE OF JOURNEY FROM HOWRAH –...
View Details
Available through out the year:
Jan
Feb
Mar
Apr
May
Jun
Jul
Aug
Sep
Oct
Nov
Dec
Skiing
Skiing can be a means of transport, a recreational activity or a competitive winter sport in which the participant uses skis to glide on snow. Many types of competitive skiing events are recognized by the International Olympic Committee (IOC), and the International Ski Federation (FIS).
Skiing has a history of almost five millennia. Although modern skiing has evolved from beginnings in Scandinavia, it may have been practiced more than 100 centuries ago in what is now China, according to an interpretation of ancient paintings.
The word "ski" is one of a handful of words Norway has exported to the international community. It comes from the Old Norse word "skíð" which means "split piece of wood or firewood".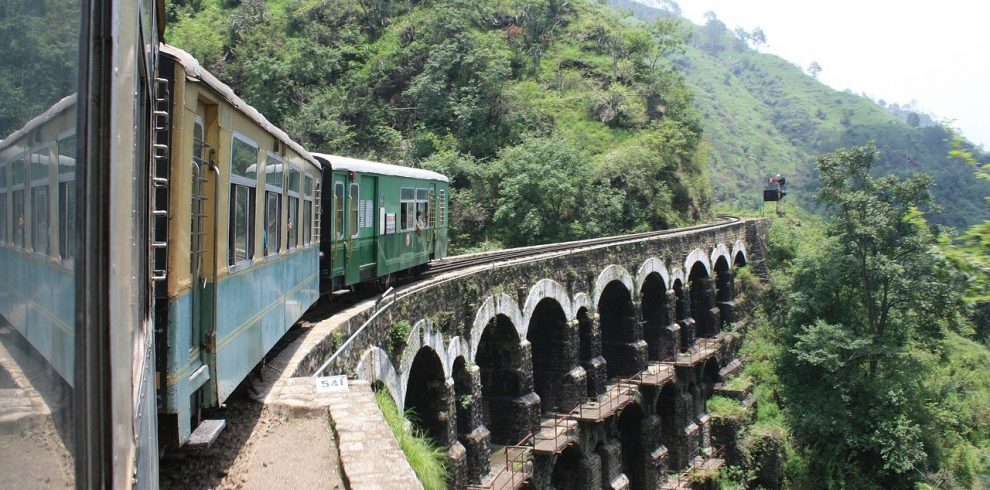 Package - Shimla-Kulu-Manali-Kasol Tour Duration - 6 Nights 7 Days
View Details
Available through out the year:
Jan
Feb
Mar
Apr
May
Jun
Jul
Aug
Sep
Oct
Nov
Dec
Upcoming Packages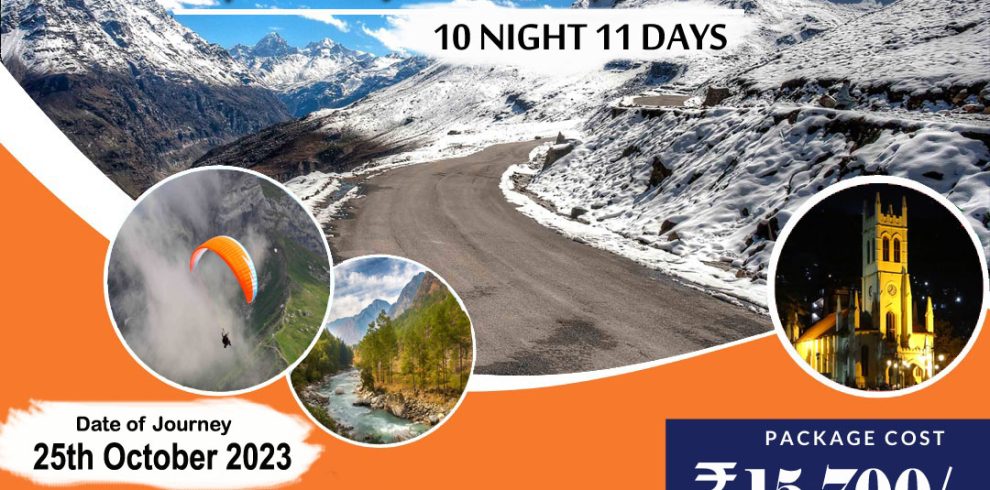 DURATION: 10 NIGHT 11 DAYS (HOWRAH TO HOWRAH)Total Package Cost: Approx INR.16400/ per Head (Double Sharing)Approx INR.15700/Per Head (Triple Sharing)DATE OF JOURNEY FROM HOWRAH –...
View Details
Available through out the year:
Jan
Feb
Mar
Apr
May
Jun
Jul
Aug
Sep
Oct
Nov
Dec
Other Trips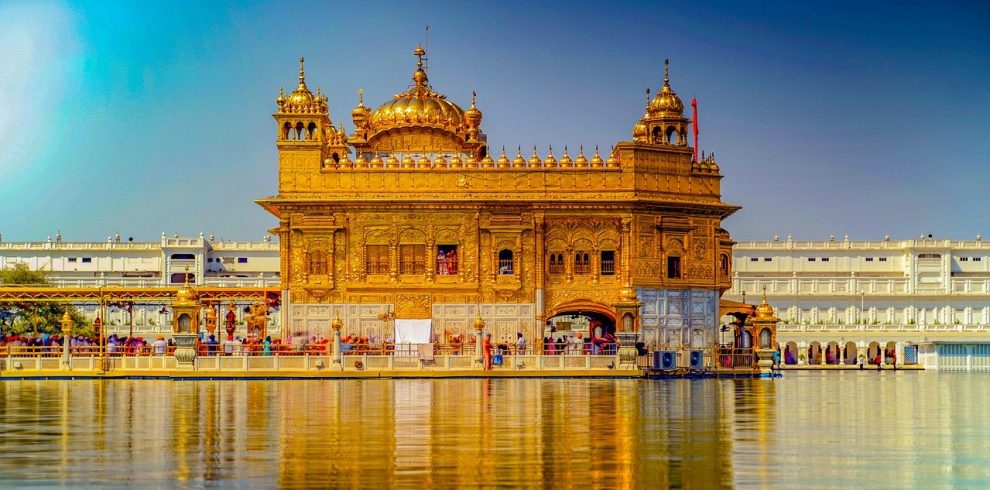 Package Name - Amritsar-Dalhousie-Dharamshala Duration - 6 Days 5 Nights
View Details
Available through out the year:
Jan
Feb
Mar
Apr
May
Jun
Jul
Aug
Sep
Oct
Nov
Dec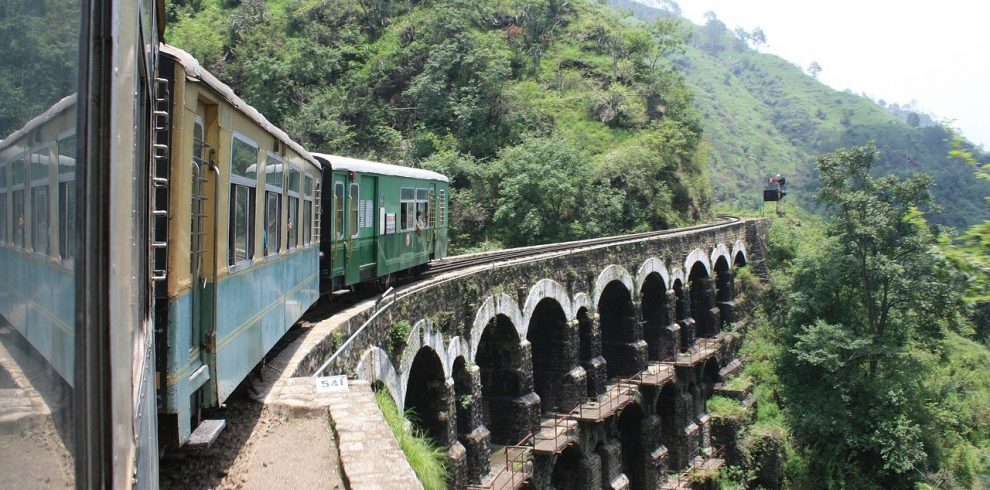 Available through out the year:
Jan
Feb
Mar
Apr
May
Jun
Jul
Aug
Sep
Oct
Nov
Dec